We closed on Oct 2, and were out to visit the property the following weekend.
Here is the view from the very SE corner of the property looking NW.  The likely building spots are at the end of the trees.  The bench that this is sitting on runs roughly SE-NW.
Some of the trees (a few are in rough shape, but most seem healthy)
Another shot of the trees.  Building site  right in this area.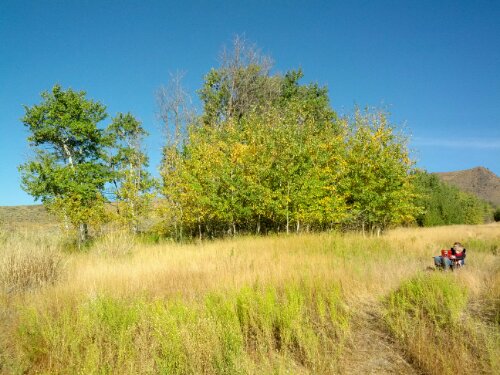 More trees:
The Test Dog thought she had died and gone to dog heaven.  For a dog whose very favorite thing to do (after eating, of course) is to run through tall grass this was like Disneyland.
Walking the property I came upon a nice family of ants who had already decided on their own building site:
Directly below the trees and the building site is a lower bench.  The bench has two (locust?) trees
Tree with Mt. Garner and either a bug or a bird caught in flight
Here is a shot from just below the trees.  Looking at satellite images my guess is that this meadow gets pretty wet and boggy during the spring melt-off.
I walked the entire property line (20 acres is quite a lot of land).  Here is a marker on one of the corners of the property.